Training
Our training courses are tailored to help organizations business development sustainability and individuals improving personal competence and skills focusing on management system principles. In addition All classes can be custom-designed and held on- or off-site at your facility or specified location of your choice. Your organization is unique, so we offer a range of training options to suit you.
the combination of presentations, discussions, and case-studies (workshop) are designed to help you develop an understanding and lasting skillset to be used in your professional career.
The following are BRS training services fields:
Foundation courses:
These courses will give you a general understanding of management systems,principle and essential what a Quality Management System is and how it can help a business
Internal Auditor courses
These courses will provide you with skills-based training that will enable you to perform an internal audit of part of a management system, and report on its effective implementation and maintenance .
Lead auditor courses
These courses will enable you to develop your knowledge and skills to carry out first, second and third-party audits of complete management systems and assess conformity with a standard . The certified lead auditor designation is a professional certification for audit team leaders working for certification bodies or performing supplier audits for large organizations. Please feel free to contact us with your questions, we are looking forward to hearing from you.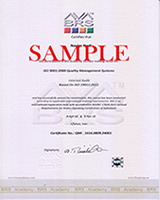 Retrieve your registration and profile online
To check training certificates validation; please Type Your Certification Number here